Photo Editing Options Made Easy
15th Dec 2015 by Modern Retail

Once upon a time, in order to have great images for your website, you needed to hire an expensive photographer or be a whiz at Photoshop. Today, there are so many great software programs and apps, anyone can create breath-taking images with ease. Below is a recap of some of our favorites starting with one of our most recent exciting finds.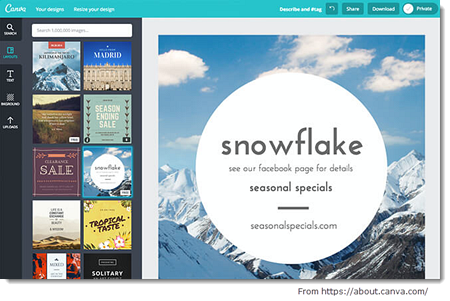 Canva
Canva is a free online design software that allows you to create gorgeous images with a click of your mouse. They have great templates for presentations, social media sites, blogging and more with both free images and premium ones available for purchase. Simply drag and drop images, add text, and save. Canva is perfect for the user who needs easy and intuitive, but it's also great for the professional looking for shortcuts to creating dynamic images.
Platforms: Web & iPad
Adobe Photoshop Elements

Photoshop Elements is great for the novice who's not quite ready for the full blown Adobe Photoshop. It allows you to do many of the things that you can do in Photoshop such as working with layers, masks, color management, and text but in a model that's simple and doesn't require an advanced degree to use. Unlike the full version of Photoshop which requires a subscription, Photoshop Elements can be purchased for a one-time price.
Platforms: Windows & Mac
Google Picasa

This photo editor from Google offers only the basic photo editing, but for many, it comes at the right price: free! Editing tools allow you to make fundamental adjustments to your images including red eye removal, cropping, and straightening. There are a handful of other automatic adjustments available which are preset, meaning that you can't adjust to your specifications. This is for the user who wants to slightly adjust their photos.
Platform: Windows
Serif PhotoPlus

This photo editing software is often compared to Photoshop Elements. It offers much of the same advanced functionality such as background removal and adding text or filters, but as a result, may take a little longer to brush up on how to make the most of the program. This is for the novice user who wants to manipulate their images with a little more detail.
Platform: Windows
PaintShop Pro


Another program similar to Photoshop Editor, sales for PaintShop Pro have jumped since Adobe has gone to a subscription based model for many of it's products like Photoshop. It's great for the novice who wants to manipulate images with layers, filters, text and more. It is easy to install and use, has many advanced features and is a good value.
Platform: Windows
Pixelmator
Pixelmator is a great alternative for photographers who love working on a Mac. You can choose from over a hundred creative filters to add style and texture to your images. It's easy to use and a good option for beginners.
Platform: Mac
With all of the choices out there for creating great photos, it's hard to know which one to choose. If you're interested in simply cropping or removing red-eye, maybe adjusting the lighting as well, Google Picasa might be for you. If you want to create strong images, simple and free, if you want to add text and layers to existing images (either yours or from Canva's huge selection), then Canva is a great choice. By the way, the photo at the top was created in Canva. Finally, if you want more control of your photo editing, but don't want to pay the subscription price or have the advanced skills for Adobe Photoshop, then any of the others noted above are worth taking a look at.