What Design Agencies Aren't Telling You: Website Themes Have Gotten Very Good!
12th May 2014 by Todd Myers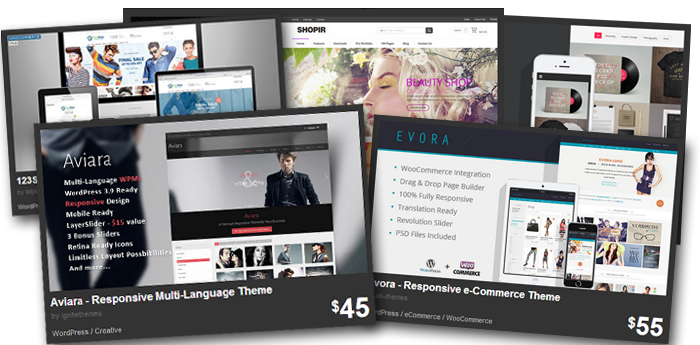 Modern Retail has been building and designing websites since 1998 and until a couple of years ago, we would have said the only way to get a quality website was for us to custom-design one for you. We work very hard to get into the retailer's head and build something completely unique for their store. While Modern Retail continues to create custom-built websites, today many of our retailers can pick a "theme" and are completely happy with the outcome. Knowing when to pick a theme and when you need a designer to custom-create a design for you is a question every retailer should ask themselves when building a new website.
What is a Theme?
Traditionally, a theme has been basically the look, or the design, of your new website. These days, the lines between what the website looks like and what it does are certainly blurring. Many of the website themes you buy today seem to include both design and functional elements.
The caveat though is that every website theme runs on top of an e-commerce platform, and the capabilities of what the platform can do may vary. Luckily, most website themes are written for a specific platform, so when looking for a theme you should pick one that runs on your chosen platform. (Choosing the best e-commerce platform to run your online store is a conversation for another day. However, suffice it to say, you need to work with someone who understands your business, your needs, and the financial and human resources available, so they can pick the right e-commerce platform for you business.)
When Themes Work
Timing & Budget
If you're just getting started and have a limited budget, then undoubtedly you should consider opting for a theme instead of asking a designer to create a custom look for your online store. This can be a hard decision for some retailers because they often opened up their store to be different and unique, and the thought of picking a "cookie-cutter" website makes them nauseous. Before you run to the toilet, you need to at least do a little exploring to see what's available. Many times a retailer will tell me they found the perfect theme for their business. While finding the perfect theme is ideal, I'm a little more pragmatic and believe if you like 95% of what the theme has to offer, you're doing pretty good. Let's face it, if you're just getting started, or find your funds to be a little low, it's better to have a website that you like, than none at all.
Mobile Friendly Sites
Even retailers that have been running a website for years are starting to turn to themes to freshen up their site instead of creating a custom design. What's fueled this decision is the huge shift toward mobile commerce over the last few years. Retailers are finding they must have a website that's mobile-friendly if they're ever expected to keep up with big box retailers.
Mobile-friendly website have a design that's called "responsive," which means it senses and automatically changes based on the visitor's display. Shoppers visiting the website using a mobile phone get one view, while someone on a tablet gets a slightly different view of the same website. Having a website with a responsive design has become an absolute must and is a standard feature of all new website themes. Therefore, when retailers are updating the look of their website, they often turn to themes to give them that fresh new look and get it to be mobile-friendly in the process.
When Themes Don't Work
With all this talk of themes you may think they will work in all cases. Unfortunately, this is not always true.
Unique Business
Sometimes we encounter retailers whose business or approach is so different, that a themed-based website would never work. This could be a result of some unique business or design aspirations that are simply too great to work with any of the themes available.
Large Catalogs
We've also found themes to be problematic when the size of retailer's catalog is very large. Catalogs under about 5,000 products work just fine with a theme. However, as the size of a retailer's online catalog grows, so does the complexity of figuring out how shoppers should browse, filter and search for items on your website. While there's no hard and fast rule here, we generally recommend a customized website design when a retailer sells 10,000 or more products.
Website Performance
Finally, there's website performance considerations to take into account as well. While themes are great and include a lot of functionality built-in, all these included features tend to overburden the website with a lot of additional code. This code is needed to run the features found in theme at the expense of making the website a bit bloated and hence, a little slower. Of course, performance is based on many factors including the e-commerce platform running the website, hosting provider and advanced features like the content delivery network. However, with all things being equal, a themed-based website will always be slower than a custom-designed website because the custom website will simply have less code in the site and therefore will run faster.
Modern Retail will continue to recommend and build websites that are custom-designed for our clients. However, for many retailers, especially those new to e-commerce, we will work with you to find the right themed site that reflects your business and personality. For some, this may be the best the best option to get an amazing-looking website at a fraction of the cost.