Wix POS / ERP Integration
18th Apr 2022
Introduction to Wix
Wix is a popular cloud-based website development tool, that doesn't require a website developer. People just getting started on the web can use Wix's easy to use tools and themes to create their website. Because Wix is cloud-based, all hosting and management of your website is taken care for you automatically. Additionally, you can get started with Wix around 50 cents per day, making it one of the most affordable website development tools on the market. For these reasons, do-it-yourselfers rely on Wix to run their small business website.

Introduction to Shopify
Shopify is arguably the most popular e-commerce platform on the planet. Retailers rely on Shopify to sell and promote their products, and securely capture website orders. Admittedly, Shopify do everything Wix can do with the management and your website and pages. However, if you're set on using Wix and need a popular e-commerce engine to run your store, then Shopify is a likely contender.

Wix POS / ERP Integration
Modern Retail is an expert at getting your Point of Sale (POS) or Enterprise Resource Planning (ERP) integrated with your website. Unfortunately, we do not have a direct integration with Wix. However, we can help you get your POS or ERP system integrated with Wix by connecting Wix to Shopify. Modern Retail has a long-standing integration with Shopify, and can easily get your POS or ERP system connected to Shopify. Using Shopify as your ecommerce engine on your Wix website will therefore allow you to get your POS or ERP system integrated with Wix website.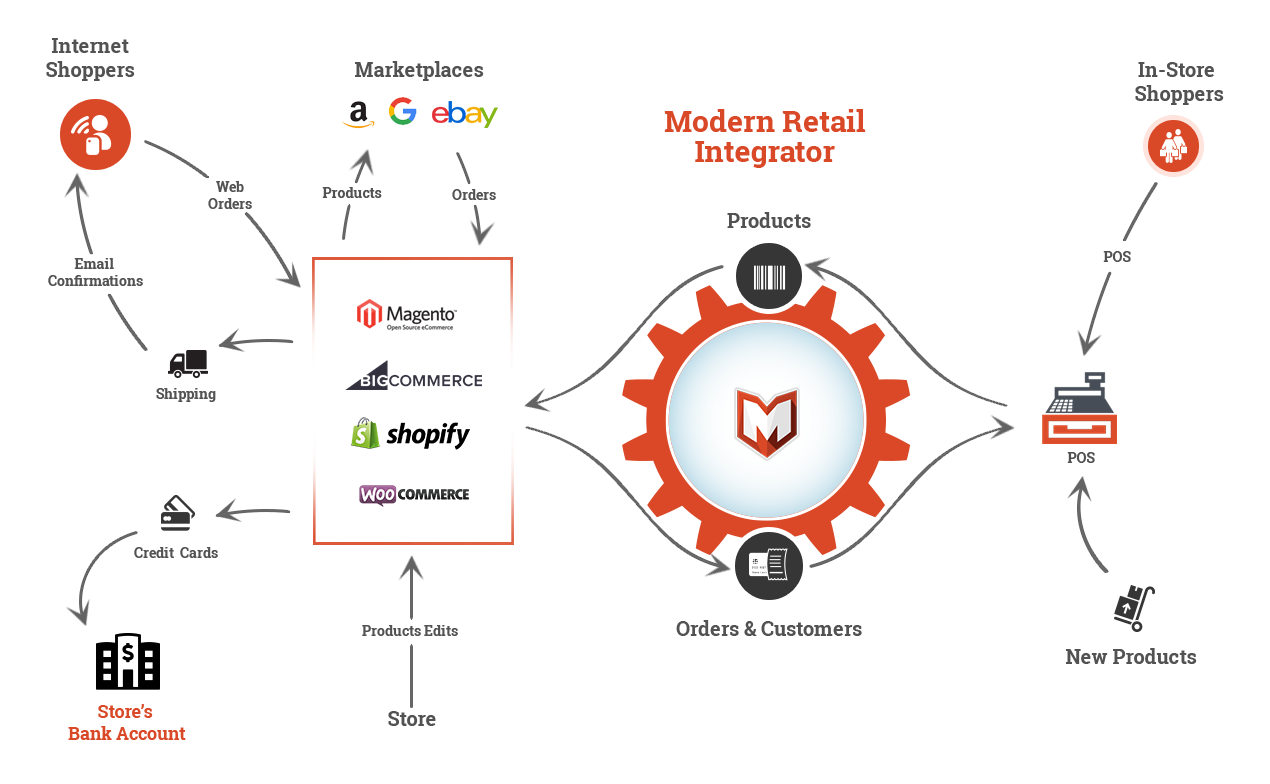 The Modern Retail Integrator is cloud-based so there's nothing to install or configure. Just like both Wix and Shopify, Modern Retail takes care of the management and ongoing maintenance of your POS or ERP integration. Thousands of retailers rely on Modern Retail to keep products from their POS or ERP in-sync with products, inventory and pricing on their website. Additionally, Modern Retail will send your website orders down to your POS or ERP system, to make sure all your customers' orders are tracked.
Please Contact Us if you need help getting your Wix website integrated with your POS or ERP system. Thank you!